Project Description
KHT-2100 Card dispenser push type
KHT-2100 Card dispenser push type
The KHT-2100 Card dispenser push type for up to 500 cards. It has a special push type mechanism which ensures the single output of every card, even when the cards are sticking together. This can be caused by the card material (statically charged) or when cards are frequently used. The push mechanism prevents card jam and ensures a trouble-free operation. The dispenser has a roust, compact design for long-life with low-maintenance.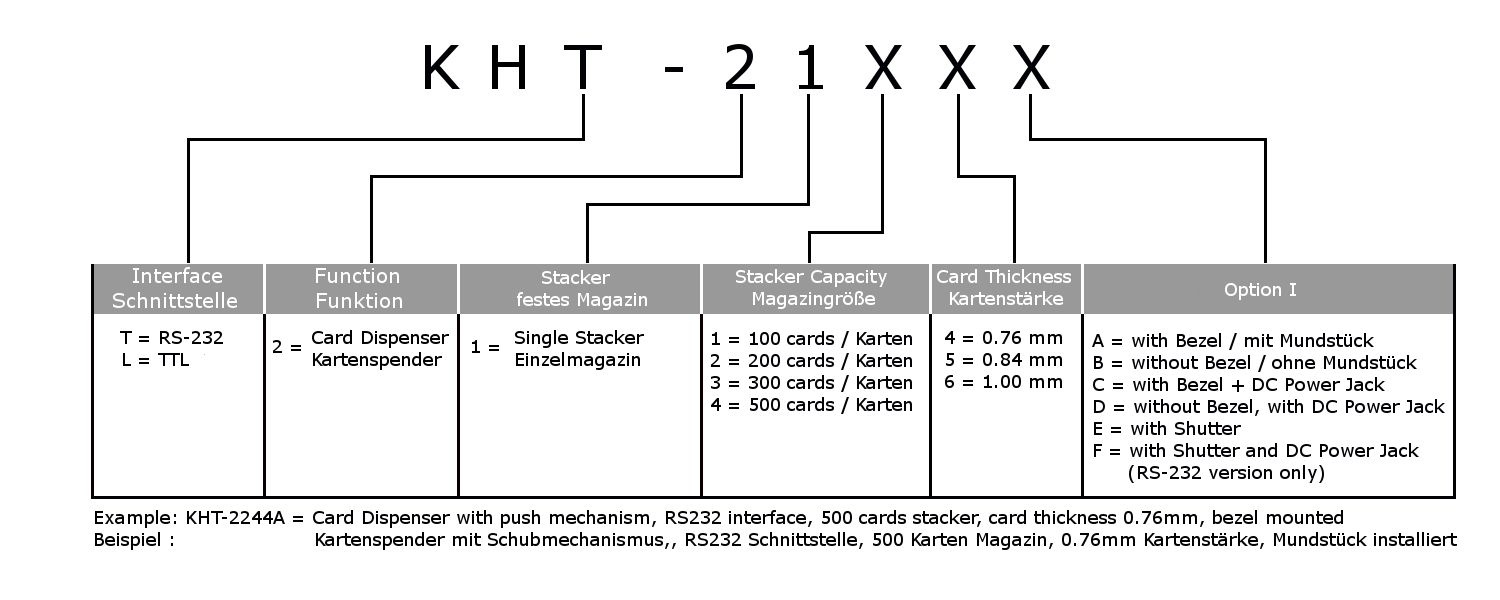 The KHT-2100 card dispenser for up to 500 cards.
With special push type mechanism to prevent card jam.
Separates also difficult to dispense cards.
Optional with low-card and card-empty sensor.
Further option is the bezel.
Available with RS-232, RS-422 and TTL interface.
Description
Note
Model
KHT-2100 Card dispenser
Magazine type
Stacker
Card transport
Push type mechanism
Card thickness
0,76-1,0 mm
Card size
ISO 7810 (CR80)
Magazine capacity
100, 200, 300, 500 cards
Interface
RS-232, RS-422, TTL
Card empty sensor
Yes
Low card warning sensor
20, 45, 75 cards
Shutter
–
Bezel
optional
 Further options
DC power jack
 Dimensions
100 cards 121 x 144 x 171,5 mm

200 cards 121 x 144 x 247,5 mm

300 cards 121 x 144 x 323,5 mm

500 cards 121 x 144 x 475,5 mm

 Power consumption
DC 24V (+-5%)