Project Description
KHT-2300 Card dispenser push type with card capture prepared for RFID modules
KHT-2300 Card dispenser
The KHT-2300 card dispenser push type with card capture for RFID modules. This dispenser has a special push type mechanism to ensure the single output of every card, even if they stick toghether because they are charged statically or used frequently. Thus card jam is preventend for a trouble-free operation of the device. The card magazine is available as stacker or exchange cartrigde version for up to 500 cards (0,76mm).
Further the dispenser has a card capture funciton, to take cards back into a separate box. This can happen if cards are defective or the customer forgot to take it out. The feeder of the KHT-2300 can be expanded with an external card reader module like RFID, barcode or a camera. And the card thickness can be adjusted very easy by the end user from 0,2 -1,0 mm. The rocust and compact design makes it a long-life device and with low-maintenance. Available with the interfaces RS-232 or RS-422.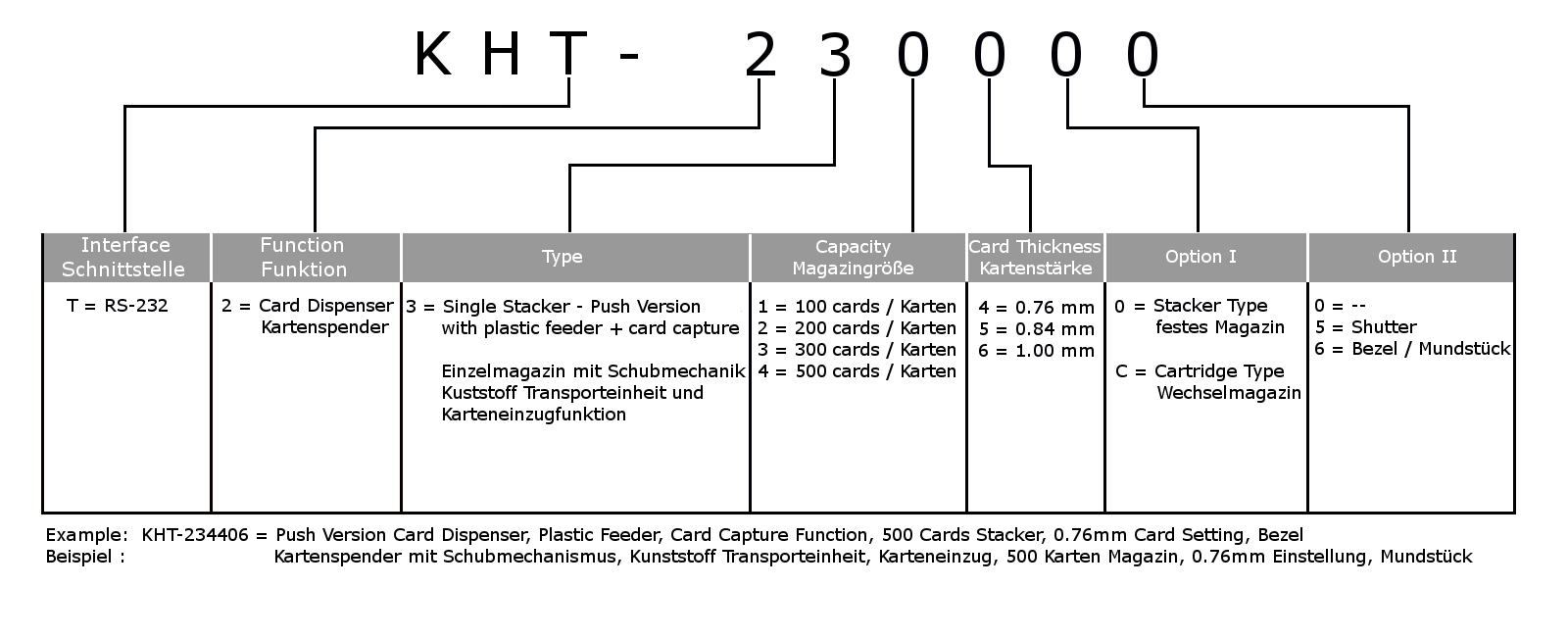 Der KHT-2300 Card dispenser push type.
With card magazine as stacker version or exchange cartridge.
Magazine capacity for up to 500 cards (0,76 mm).
Trouble-free operation without card jam trough push mechanism.
With card capture fuction for defective cards.
The feeder module is prepared for external card reader modules like RFID.
Optional with higher frame for captured cards.
With card-empty sensor and optional low-card sensor.
Available with RS-232 or RS-422 interface.
Description
Note
Model/Type
KHT-2300 card dispenser
Magazine
KHT-2300 = Stacker

KHT-2300C = Exchange cartridge

Card transport
Push mechanism
Card thickness
0,2 – 1,0 mm
Card size
ISO 7810 (CR 80)
Magazine capacity
100, 200, 300, 500 cards
Interface
RS-232, RS-422
Card empty sensor
Yes
Low card warning
Yes/ at 20, 45, 75 cards
Shutter elektc.
Optional
Bezel
Optional
Further options
Higher frame for captured cards
Dimensions
100 cards 124,9  x 315 x 171,5 mm

200 cards 124,9  x 315 x 247,5 mm

300 cards 124,9  x 315 x 323,5 mm

500 cards 124,9  x 315 x 475,5 mm

Bezel + 13mm

Shutter+ 30,2 mm

Power consumption
DC 24V