Project Description
KHT-2200 Card dispenser push type and card capture
KHT-2200 Card dispenser push type and card capture
The KHT-2200 Card dispenser push type and card capture function for up to 500 cards. The special push type mechanism ensures the single output of every card, even when they stick together e.g. because they are statically charged or frequently used. So card jams are prevented for a trouble-free operation. The card caputre function brings cards back into the device if they are e.g. defective or the customer didn´t take it out. With the compact and robust design, the KHT-2200 is of high quality for long-life with low-mainenance. Futher the card thickness can be adjusted very easy from 0,2 – 1,0 mm by the end user itself. It is also possible to mount a card reader/writer onto the feeder of the dispenser. Available with the interface RS-232.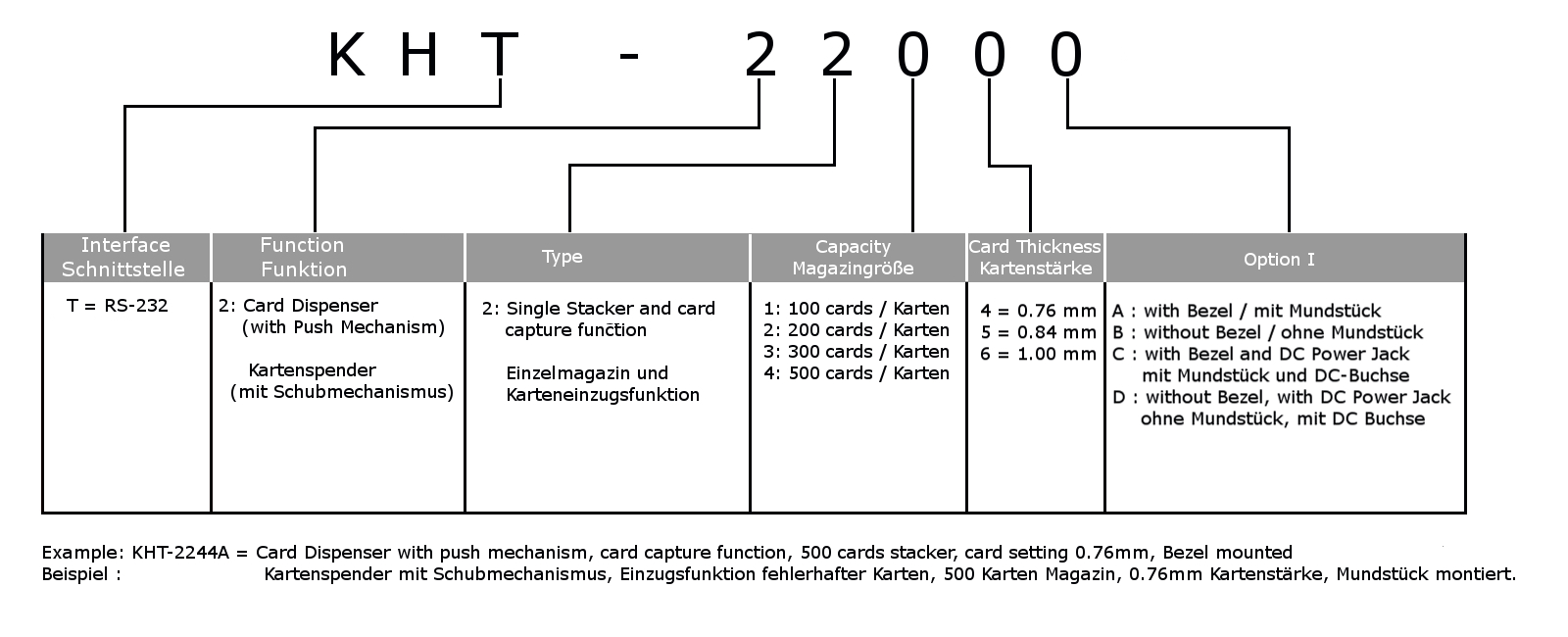 The KHT-2200 Card dispenser for up to 500 cards.
With speciall push type mechanism (matal finger dispenser).
Optional with shutter or bezel.
With card capture function.
Card magazine capacity for up to 500 cards (0,76 mm).
Available with RS-232 interface.
Description
Note
Model/Type
KHT-2200 card dispenser
Magazine
Stacker
Card transport
Push type mechanism
Card thickness
0,2 – 1,0 mm
Card size
ISO 7810 (CR 80)
Magzine capacity
100, 200, 300, 500 cards
Interface
RS-232, TTL
Card empty sensor
Yes
Low card warning
Yes
Shutter elektc.
Optional
Bezel
Optional
 Further Optionen
–
 Dimensions
100 cards : 116,3 x 239,4 x 171,5 mm

200 cards : 116,3 x 239,4 x 247,5 mm

300 cards : 116,3 x 239,4 x 323,5 mm

500 cards : 116,3 x 239,4 x 475,5 mm

 Power consumption
DC 24V