Project Description
TAM-1000 Ticketprinter for paper tickets with magnetic stripe
TAM-1000 Ticketprinter
The TAM-1000 Ticketprinter for paper tickets with magnetic stripe. This model was specially designed for parking, public transportation and toll applications. The printer has a resolution of 200 dpi for best printing results and is equipped with a magnetic encoder for all three magnetic tracks.
With front-in and fron-out and either front-in and rear-out function. Further with card capture function to return error tickets. The long-life and solid stepper motor for high speed card transportation with 350 mm/sec and card printing 55 mS per line. Optional with Bezel or shutter and also housing is available. With clamshell body for and LCD display for easy operation and maintenance.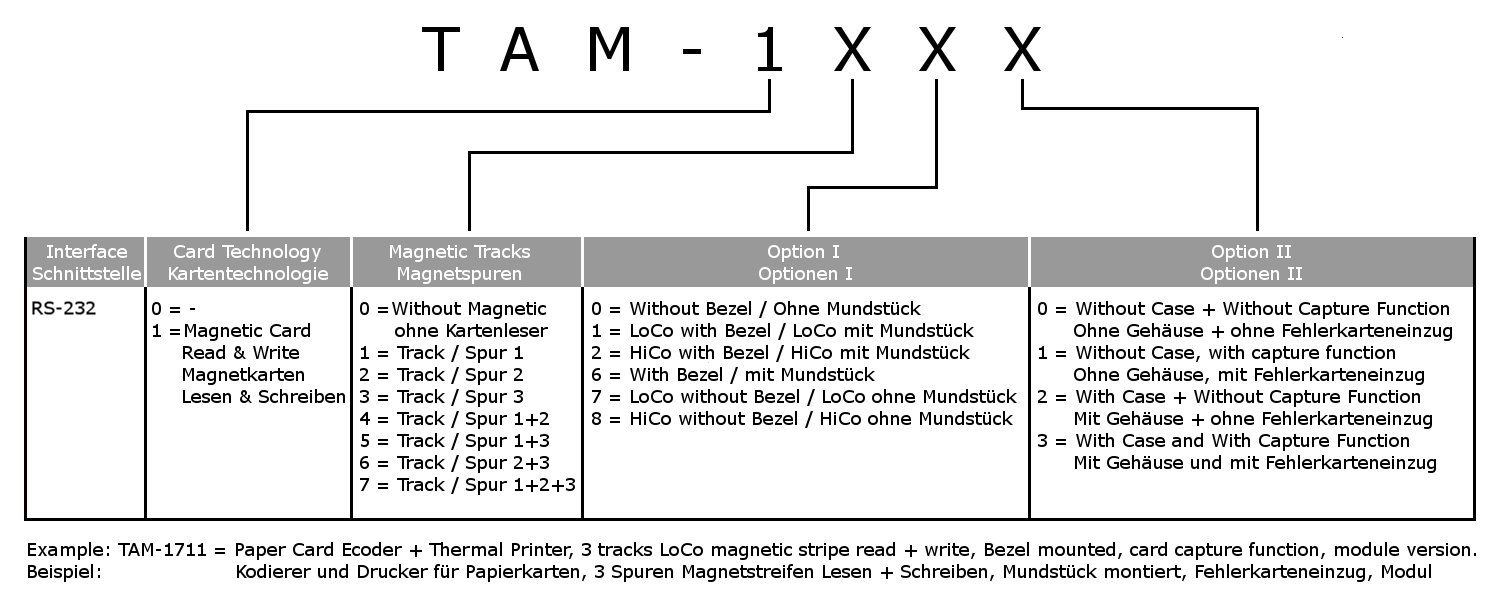 The TAM-1000 ticketprinter for magnetic papertickets.
For magnetic stripe reading and encoding in HiCo and/or LoCo.
For thermal direct printing with 200 dpi resolution.
High printing speed of 50 mm/sec and line.
With clamshell body for easy maintenance.
With error card capture function to return cards.
Optional with bezel or shutter.
Optional as housing version available.
Available with the interfaces RS-232 or USB.
Description
Note
Model/Typ
TAM-1000 Ticketprinter
Card type
Papertickets with

thermal sensitive coating

Card size
ISO 7810

85,725 x 53,975 mm

Card thickness
0,18 – 0,22 mm
Magnetic cards
ISO 7811

reading + encoding

HiCo or LoCo

Magnetic head
3 Mio. passes
Printer
Thermal direct printer
Printing resolution
200 dpi
Printing speed
50 m/s line
Lifetime printing head
50 km
Bezel
optional
Shutter
optional
Housing
optional
Card capture function
Yes
Interface
RS-232 or USB
Power consumption
DC 24V (+-5%)