Project Description
KYT-2500 Card dispenser with cartridge
KYT-2500 Card dispenser
The KYT-2500 Card dispenser with cartridge is very compact with robust industrial sturcture. This makes it high reliable and with low-maintenance. The card transportation happens with rubber rollers, which is material friendly and prevents scratches on the card surface. The unique clutch system prevents card jam and ensures the singel output of every card. Card with thickness between 0,2 mm -1,0 mm can be processed. And the gap adjusting can be made very easily by the user itself.
The functional exchange cartridge allows a quick refill of the card dispenser. Further options are a shutter to protect the device from dust and vandalism or a bezel. The dispenser is available with the interfaces TTL, RS-232 or RS-422.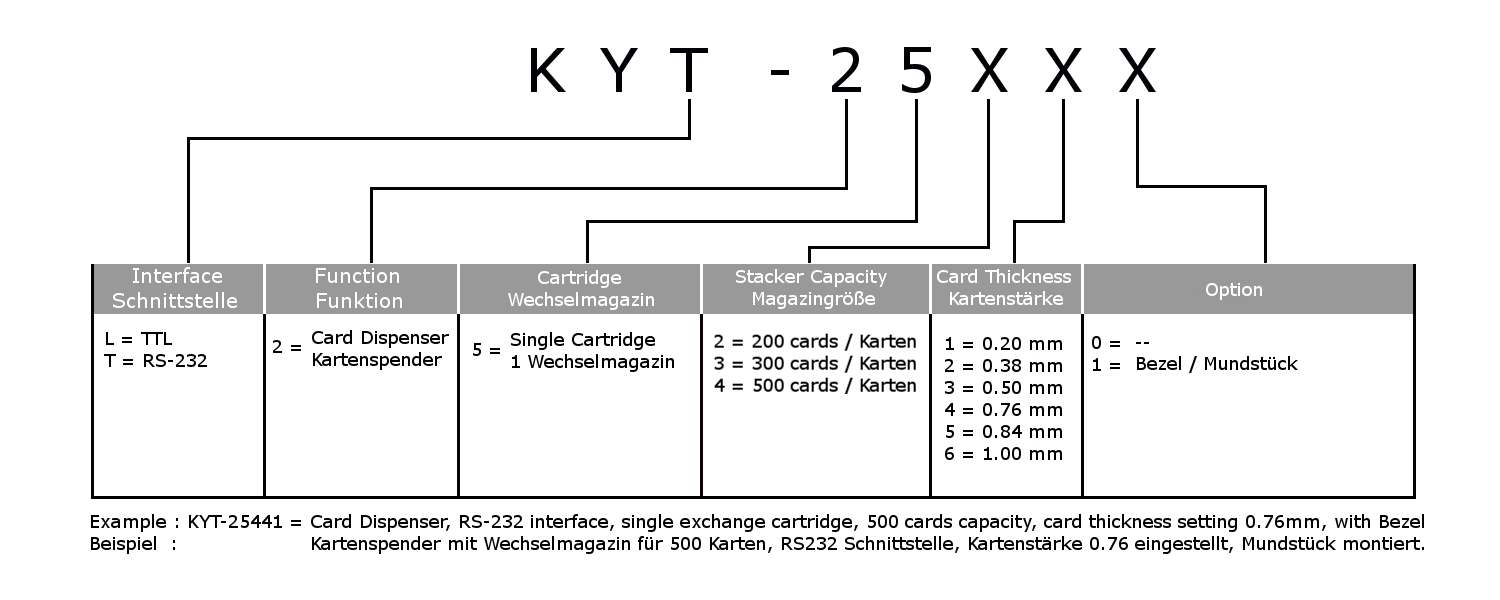 The KYT-2500 with exchange cartridge for quick refill of the device.
The device is very compact and high reliable with low-maintenance.
With a unique clutch system to ensure the singel output of the cards.
Optional with shutter to protect the dispesner against dust and vandalism.
Or with a bezel as an insertion aid.
Available with the interfaces TTL, RS-232 or RS-422.
Description
Note
 Model
KYT-2500 card dispenser
 Magazin
cartridge (exchange)
Card transportation
Roller (rubber)
Interface
TTL, RS-232
Magazine capacity
200, 300, 500 cards
0,76 mm cards
Card thickness
0,2 mm – 1,0 mm
Card size
ISO 7810
Standard card type
 Card empty sensor
Yes
Shutter mech.
optional
Bezel
optional
 Further options
 12V Version
 Dimensions
200 cards 300 cards 96 x 156 x 356,5 mm

500 cards 96 x 156 x 508,5 mm

Bezel+ 13mm

 Power supply
DC 24V (+-5%)